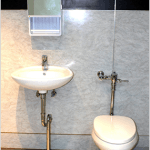 Conventional cabin bathroom improvements are a lot easier than you think. Simply get the right marine plumbing fitting to greatly improve the aesthetics and functionalities of your cabin lavatory.
High Quality and Reliable Marine Plumbing Fittings
TYH Marketing is your one-stop-centre for your plumbing needs in the shipbuilding industry. Whether you're remodeling or repairing, we have reliable, high-quality marine plumbing fittings that suit your needs, preferences, and budget.
From intuitive cabin bathroom accessories, to sophisticated flushing systems, and even eco-friendly sanitary wares; name them, we have them. With our range of fittings, you can achieve the bathroom look you always wanted.
Established Brands
At TYH Marketing, we distribute local and international brands of lavatory and plumbing fittings that are backed by a long history of customer satisfaction, durability, and ease of use.
Contact Us Now!
Want to get hold of the right marine plumbing fittings to help you achieve the bathroom that you have always wanted? Contact us at +65 6745 3748 or send us an email at sales@tyh.com.sg.
Alternatively, you can physically visit our showroom to have a first-hand experience of our wide array of high-quality products.