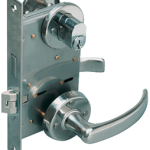 THY Marketing offers cabin door locks in various designs, materials, and shapes. We use the best techniques and high-quality raw materials to ensure that the quality of our marine door locks is not compromised.
Our cabin/marine door locks online are classified into three main categories, namely: mortise latches, mortise locks, and rim locks.
Mortise latches
Made of stainless steel, both are mortise latches with lever handles. They fit standard cabin doors with a backset of 55mm.
Mortise locks
HJ-2410

HJ-2310

EX-9225

EX-9210

EX-2305

EX-2270

EX-2310-RF

EX-2230
Made of stainless steel, most of our mortise locks come with a lever handle, cylinder & thumbturn and originate from Korea.
Rim locks
Made of stainless steel, both originate from Korea and fit standard cabin doors with a backset of 54mm and 55mm.
If you don't see the marine door locks you're looking for on our site, please don't hesitate to contact us. We'd be glad to further assist you as there are cases that the locks are available but not just listed online.  We look forward to hearing from you!
Get in Touch With Us Today!
Want to have peace of mind that your boat and marine gear are safe and secure? Check out our selection of marine door locks and contact us at +65 6745 3748 for more details.
You may also send us an email at sales@tyh.com.sg if you're interested to buy marine door locks or order marine door locks online.
Whether you are a homeowner who wants to make sure that your loved ones' safety are not compromised or a business owner who wants to boost the security of your workplace, you cannot go wrong with marine mortise locks. With the said locks, it becomes extremely difficult for lawless individuals to break in and take your valuables and/or perform wrongful acts. They make it extremely difficult for them to open locked doors and in the process, ensure that your loved ones or employees are not burdened by complex as well as time-consuming security accessories and equipment. What makes marine mortise locks stand out?
Deliver dependable security 
Compared to common cylinder locks, marine mortise locks are reliable and strong thanks to their durable components that are designed to withstand impact and prevent mechanical inaccuracies. The long list includes the deadbolt, auxiliary latch, latch bolt, lever trim, etc. 
Almost all intruders enter residences or business facilities through the front door. This is the 
reason why you should make it a point to bolster its security features through marine mortise locks. To take the level of safety and 
security to a whole new level, it's best to equip other entrances with marine mortise locks. 
Available in various sizes
Finding the right marine mortise lock that is going to complement your needs, preferences, and 
budget is easy thanks to the wide range of units that are out on the market that come in various 
sizes. This can also be handy if you need to replace old ones since you do not have to drill new 
holes on your door.
Compared to conventional locks, marine mortise locks are pleasing to the eye thanks to 
their antique charm. They are perfect if you want to enhance the aesthetics of your 
home or business facility. 
Get the right marine mortise locks for you
As you can see, marine mortise locks are perfect if you want to ensure the safety of your loved ones and employees. If you need help finding the right one, contact us at TYH Marketing, we offer various models that are sure to deliver unwavering protection at competitive prices.
Contact us now! We would love to hear from you.